No matter where you live or what style of house you live in, you can't go wrong with a country kitchen. From the right appliances to the most inviting fabrics, I've considered all the best ingredients to help create the perfect country kitchen. Follow my 'How to create a country kitchen' guide for a recipe to success.
Kitchen Island
Adding an island in the middle of your kitchen can create a lot more storage and become a great place for your sink, oven and even a seating area. By making the island a breakfast bar, this can become the focal part of your kitchen. Add more of country feel by making your countertop granite! My advice is to go for a light coloured granite for a country kitchen; browse different ranges of granite here.
Kitchen Units
Choose between painted or wooden units, as both have so much to offer. Pale wood or deep stained oak are just some of the variety of wood units available. Painted units give a welcoming look and provide a flexible choice as you can repaint your current units in the colour of your choice.
Invest in a Range Cooker
A Range cooker can be an excellent addition to a country kitchen. To make more space, tuck the cooker into a brick alcove and to finish off, add a colourful tiled splashback. This traditional cooker will add an instant country feel. Take a look at Rangemaster and browse their different cookers to suit your kitchen.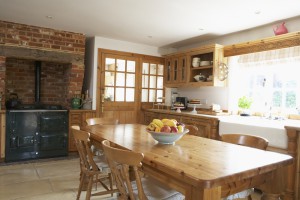 Kitchen Tiles
If you're looking for a cheap way to achieve a country kitchen, then tiles are the way to go. Neutral colours or patterned tiles are an important addition to your kitchen, for example ceramic tiles with a soft duck egg blue or cream shade would look perfect.
Painting your country kitchen
Colour can do amazing things to your kitchen and a lick of paint is a cheap way to create a country kitchen feel.  Mix and match colours to add a bit of character, choose from forest greens, cream, pale yellows, pale blues and rustic reds.
Country Dresser
Showcase your country china in a traditional antique solid wood dresser. This can help you add colour and decoration to your kitchen, along with being an additional storage unit.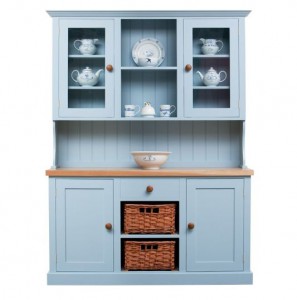 Neutral Floors
Keep your country kitchen floors simple by choosing neutral materials, for example brick, tiles, stone and white painted wood floors. Stones are great for kitchens because they're easy to clean and are stylish.
Floral Fabrics
Matching your kitchen colour scheme to floral prints is a great way to add a summer feel to your country kitchen. Accessories are an interesting way to introduce floral prints into your kitchen; blinds, curtains, table cloths, cushions, oven gloves and tea towels can create that bright summery feel.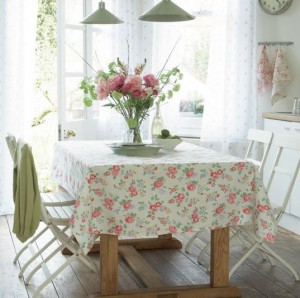 Antique Accessories
Homely antique buys will help to set the scene in your country kitchen. Vintage plates resting on a mantel piece, a porcelain cake stand and vintage cream metal jugs displaying flowers; will all work perfectly in your kitchen.
Do you already have a beautiful country kitchen? Why not share your photos with Planet Granite on Facebook or Twitter, it would be great to see how you've achieved your perfect country kitchen.
About Karen
Hi, I'm Karen and I work with my husband Steve at Planet Granite U.K. Limited. We produce and install granite and quartz worktops, and we love what we do! My passion lies specifically in Kitchen Design, so in my blog you'll be able to view some tips, guides and examples of wonderful kitchen designs, hope you enjoy them.