Templating your worktops.
When customers visit our amazing showroom at Devitts Farm in Arley, we often talk about the importance of having Planet Granite carry out your worktop template, but online we've never really explained in any great detail why this is so. As many of you have plenty of 'spare time' during this outbreak, we thought we'd give you something insightful to read,… especially if you are considering new worktops in the near future.
You might say this is the most important part… and you'd be right. Getting the correct angles, measurements, overhangs and cut-out positions for your sink, taps and hob etc… are vital in the look and functionality of your kitchen. This is not an appointment to be rushed and if possible one you should make every effort to attend. Your templater will want to discuss with you all the finer details in order to achieve your dream kitchen surfaces. It is likely that he will ask you questions you haven't considered and will be able to help you make the correct decisions.
So, what do we do and how do we do it?
Well, we have a very modern approach to templating and indeed manufacturing. Having invested heavily in digital technology and always staying up to date with the latest equipment and techniques, we are able to produce very accurate digital template files (*dxf) using an industry leading and world class laser tool and digital software.

This is beneficial for many reasons but most importantly its accurate! It doesn't matter how complex your kitchen shape is, or how much your walls may run out (and they nearly all do) our tried and tested processes allow us to identify any irregularities and apply solutions there and then.
Once the equipment is set up and the room is prepared for measuring we start by taking a reference of your kitchen layout and the walls its secured against, this gives us a base to work from and is displayed digitally on a large touch screen. Now this is achieved, we can start to design and manipulate the digital drawing to give you exactly what you want. This is where we measure your appliances, sinks, taps, pop-up sockets etc and work out where and how big your breakfast bar or island may be and which edges are to be polished and profiled. We would also add any end panels or mitred 'Waterfall' ends should they be required.
Now its time to measure anything else you may require such as upstands, splashbacks and window cills to complete your template design. This part also tends to bring up questions so your input here is also very important as there are many ways to apply these separate pieces.
This whole process typically takes anything from 1 to 3 hrs depending how much there is to measure and how prepared you are. If there are other trades onsite at the same time for example, this can add considerable time to this event in many cases.

Once the template is complete, a spec sheet is then filled in onsite which shows all the details of your new worktops including the material colour, thickness and finish and sketches to show all the elements. This is the time to add, remove or change anything you wish and once happy it can be signed off for fabrication.
Remember, We can only measure what is there! If your kitchen isn't complete it's not a good idea to have it templated. DO NOT RUSH THIS PART !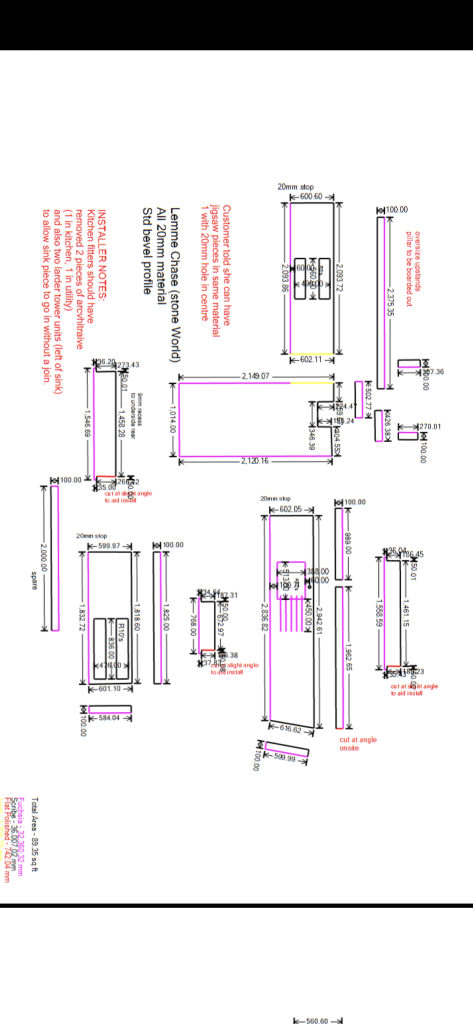 We hope this gives you an insight into what you can expect when we visit to template, but you can always contact our staff with any questions or concerns you may have.
About Steve
Hi, I'm Steve. I run Planet Granite from a custom-built farm in Warwickshire, where I live with my family. The team and I are really passionate about crafting and installing granite and quartz worktops, as you'll see from my blog. You'll find before and after photos and examples of different designs and stone to inspire you. Happy reading!