Samples
Not sure what surface you like, then why not order samples?
Free Samples

Granite or Quartz
What's the difference between Granite and Quartz?
Find out more...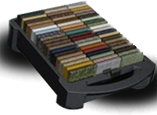 View Gallery
Why not take a look at our past projects?
View Gallery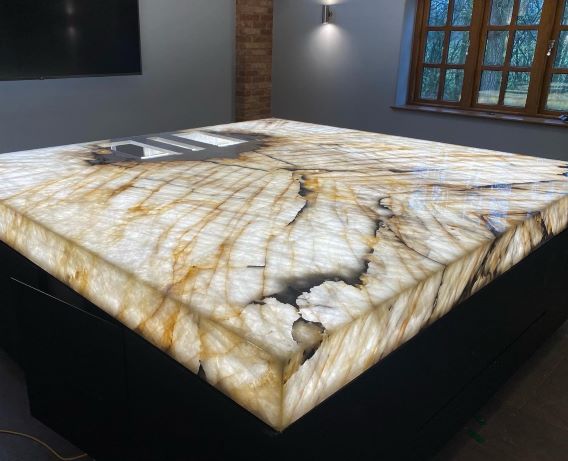 Granite Worktops from Planet Granite
What do we do?
Hi, I am Steve, director and founder of Planet Granite. We are the original and only Planet Granite. We have been trading since 2002 most people are referred to us through a recommendation these days as we have completed literally thousands of jobs over the past years.
We have our own custom built showroom and factory based at Devitts Green Farm in the heart of Warwickshire, this is where our team specialise in the fabrication of granite, quartz, silestone and pretty much any type of stone kitchen worktops. We operate in Coventry and further afield across the Midlands and into Central London.
Planet Granite invest in the latesty waterjet technology. see article Click here.
How are we different?
Planet Granite have been producing and installing granite worktops and quartz worktops since 2002 and during this time we have developed fantastic knowledge of the industry and a wonderful reputation with our customers. We custom built our own Factory in 2015 after outgrowing our original site at Devitts Green Farm and being the live-in director here means I am very hands-on and pride myself on being involved with every project we undertake and staying in touch with all the day-to-day tasks of the factory.
I'm proud that each team member here at Planet Granite is brilliant at the job they do. Combined with the investment we have made in the latest CNC technology and the addition of the latest waterjet machines and granite polishing machines, the fact we are the importers of all our own material means you deal directly only with us. This enables us to not only keep costs down, but as granite worktop specialists, we can design, create and install superior granite, marble quartz or silestone worktops.
Quality that doesn't cost the earth
So are we expensive? The answer is no and the simple reason why is because we are a small dedicated team of 15 people totally specialising in granite and quartz worktop manufacturing. We have moderatley low overheads, we own all our own specialist granite processing equipment and import all of our own material which basically means there is no queue of people taking their cut; we import it, we fabricate it and we install it.
Once you have selected your new kitchen, simply contact Planet Granite for a quote or visit our granite and quartz worktops showroom in Coventry and I will personally take care of everything from start to finish, just as we have done with hundreds of quartz worktops and granite worktops in Coventry, Leamington, Warwick, Nuneaton, Stratford on Avon, Rugby, Birmingham and other surrounding areas over the last 10 years.
Offering Bespoke Quartz Worktops
Here at Planet Granite we offer a large range of bespoke quartz worktops including Silestone, Caeserstone, Crl Quartz, Samsung, Neolith Dekton and Unistone etc.
Made from one of the hardest minerals on the earth, quartz is a great alternative to granite; this man-made material consists of mainly ground quartz powder mixed with resin.
The resin helps ensure the material doesn't stain and is thermal and scratch resistant, meaning you never need to get your quartz worktop sealed. The material is offered in a variety of colours and some quartz designs contain a small amount of glass or metallic flecks which helps to achieve an eye catching kitchen countertop. With our variety of quartz designs you will be able to find the perfect countertop for your home.