Here at the Planet Granite showroom we seem to be getting asked this question more and more "should I have quartz or marble" so I thought it may be a good idea to explain a few things to help people decide what is right for them.
The current demand for marble looking work-surfaces with a grey and white veining is becoming ever more apparent, so much so most quartz manufacturers like Silestone, Crl Quartz etc. are creating colours to replicate the natural marbles such as Bianca Carrara Marble and Arabescato.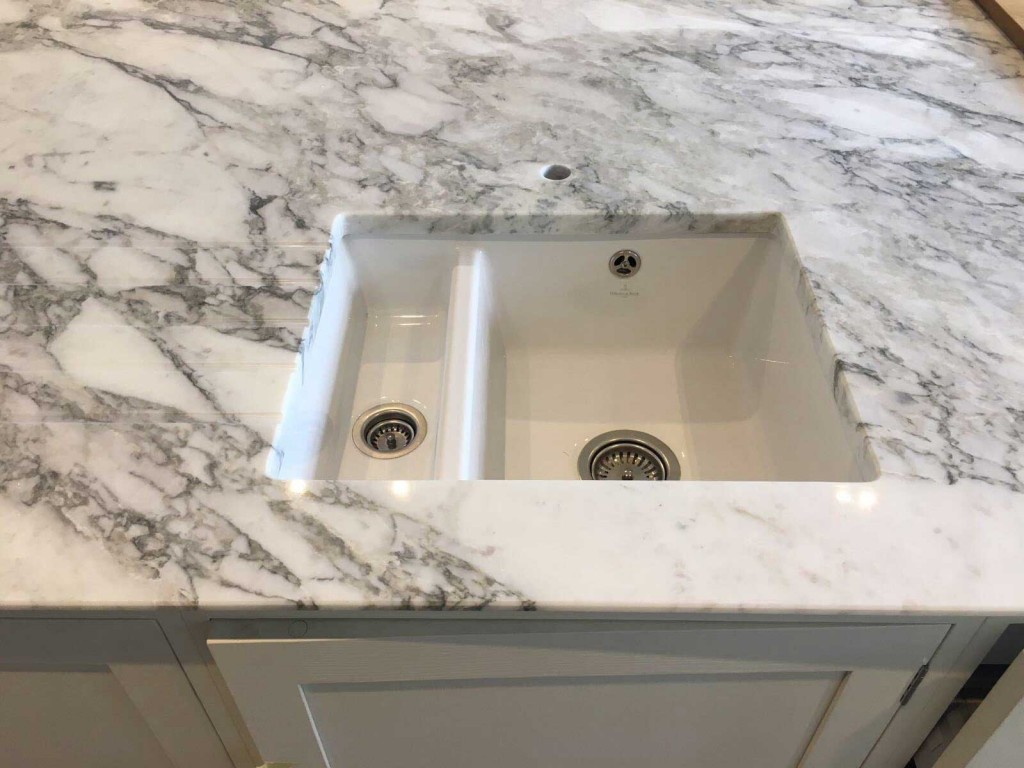 Marble Suitable for Kitchens?
Is marble suitable for kitchen worktops….. well the simple answer from us is most definitely 'Yes', we have installed marble worktops to countless kitchens over the last 15 years or so and have included some pictures below of these instals, all in working kitchens too. Marble has been used as countertops throughout history particularly in Europe and is as we all know it is the perfect pastry producing surface.
But what about staining?
Ok staining of marble…. well you will need to be a little more efficient with the cleaning of your tops admittedly so you should clean up spills from things like red wine etc. relatively early and not leave it to soak in but this is a beautiful natural material its a bit like having real wood worktops as apposed to a laminate surface, this is the compromise for having the real thing but looked after properly it will last and gain a timeless hue and gain its own patina as it matures and tells the story of its existence. It really is a case we think that if your after a timeless beauty there really is nothing that quite compares to natural marble. Most butchers shops, cafeterias and bars have marble worktops in a commercial environment so we're pretty confident if you are not too careless you won't ruin them and you'll be able to enjoy the real thing and have marble.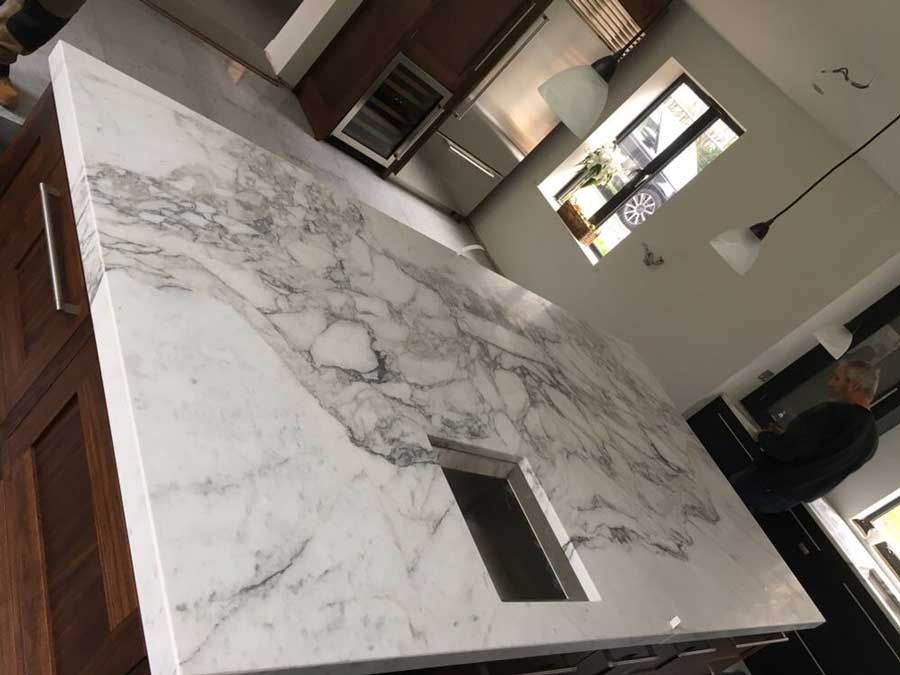 Dry Treat Stain Proof
So we seal all our marble worktops with an amazing product called 'dry treat stain proof' this is a sealer unlike any other sealer that we apply to your material in the factory at Planet Granite.
How is Dry Treat different? Dry Treat is different because once applied it stays inside the material be it marble or granite for life, its a nano particle sealer and as such the tiny sealer particles enter inside of the stone instead of sitting directly on top the stone where they can wear off. Dry Treat makes the material hydrophobic for ever. This makes it repel liquids and so resists it to staining unlike no other protection, we always ensure we Dry Treat all the marble worktops we produce as a matter of course and its all part of our service.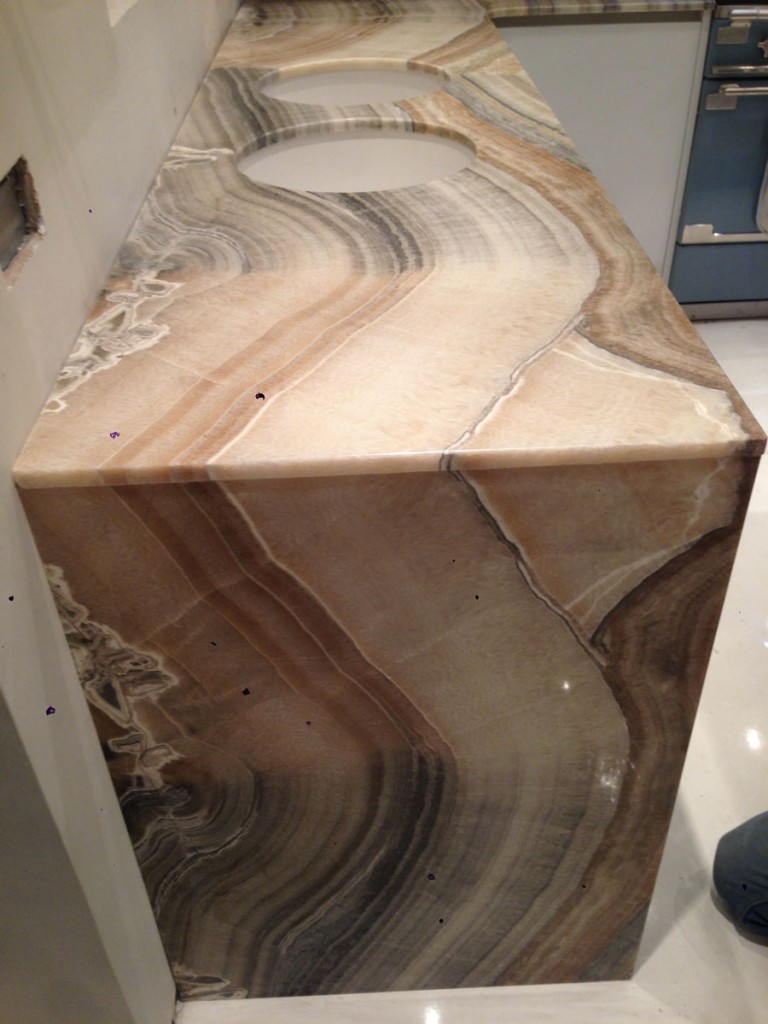 Quartz Marble Looking Worktops
Manufacturers such as Silestone, Caeserstone, Crl, and Unistone offer alternatives to having natural marble for the kitchen in the form of quartz both in 20mmm and 30mm thicknesses. The nature of how the quartz is produced from ground up quartz stone and added polymers and resin make it stain resistant by eliminating the capillary tubes found in natural stone, it also means the manufacturers can design any type of consistent pattern they desire, this makes for a very user friendly work surface and can mean a more uniform look if that is what is desired by the customer.
Conclusion
So there you have it, its entirely up to yourselves whether its to be Marble or Quartz but both are more than suitable for the job, I hope this has helped dispel some of the myths around marble and quartz worktop suitability.
About Steve
Hi, I'm Steve. I run Planet Granite from a custom-built farm in Warwickshire, where I live with my family. The team and I are really passionate about crafting and installing granite and quartz worktops, as you'll see from my blog. You'll find before and after photos and examples of different designs and stone to inspire you. Happy reading!